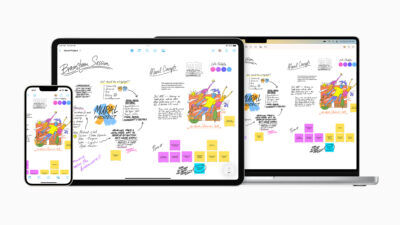 Super interesting novelty in the house Apple! The company just launched a new app for all of its users. Is called Freeform and it's completely free. The only thing you need to do to get it is to download the latest version of the software for iPhone ( iOS 16.2) for iPad (iPadOS 16.2) and Mac (macOS Ventura 13.1). What is Freeform for and why could it change your life? Let's find out together.
Freeform is just one virtual whiteboard with unlimited possibilities. This is how Apple defined it in an official statement released in the past few hours. The aim is to create a place where users can enclose ideas and files of all kinds to work with, even in company, at any time!
Apple Freeform: pure personalization
The possibilities that Freeform offers are truly endless. The whiteboard can host files of all kinds, from PDFs to photos taken with the iPhone. Content can be visually arranged however you prefer and you can preview them by simply double tapping on them. But that's not all, it is also possible to add notes of all kinds close to them (on the iPhone and iPad it is also possible to write and draw with your fingers). The whiteboard is dynamic, is synchronized thanks to iCloud on all devices and extends as new content is added! If you share the whiteboard with others, they automatically get the ability to work on it themselves. The result? Organized and dynamic work always at hand!
How do I add a person to the whiteboard? Simple, just share it via messages and the game is done (maximum number of 100 collaborators). Furthermore, thanks to FaceTime integrated within the app, it is possible to start video calls with collaborators directly from there so as to be able to work and discuss the whiteboard in an easy and intuitive way! In practice, Apple has thought of all of them.
What we have just said are only the main features of Freeform. If you are interested in learning more, we refer you to the link of Apple's official statement where you can find everything you need! Stay tuned for any updates on this.
Ph. credit: apple.com
Read the full article at: Apple Launches Freeform App: Here's What It's All About – Original Article by: FocusTECH